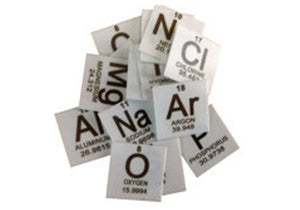 Silica Physics
"Eternal Elements" of Periodic Table - Ceramic Column Scoring Wafers
Regular price
$ 6.00
Sale price
$ 0.00
Tax included.
Pick your favorite element or elements --
These ceramic (alumina) scoring wafers are marked in proprietary, laser-based process that is believed to cause carbon nanoparticles to be captured in the surface melted alumina, producing shades of indelible brown color. The images are undamaged by extremes of pH (conc. H2SO4, sat. NaOH), solvents (CH3CN, THF, alcohols, hydrocarbons, H20) or temperature extremes (slight fading at 1200°C after a few hours).
IQ chose to produce the periodic table as our first demonstration of the versatility of the marking method, with chemical symbol, element name, atomic number and average atomic mass. All elements of the periodic table are available so pick your favorite, or favorites, or collect the whole periodic table.
Custom laser printing in these and larger stock wafers is available with no minimum order. (Stock wafers, all 0.025" thick, include these 1" x 1" wafers plus 1" x 2" and 1" x 3".) The alumina itself has a density of 3.72 g/ml and a Rockwell hardness of 78, making it among the hardest substances in the world.
P/N: 3-8002E (single random element wafer unless noted*) -- $6.00 ea
P/N: 3-8002E-5 (5 pack of random element wafers unless noted*) -- $5.40 ea
P/N: 3-8002E-10 (10 pack of random element wafers unless noted*) -- $5.10 ea
P/N: 3-8002E-25 (25 pack of random element wafers unless noted*) -- $4.50 ea
* Please note, at checkout, in "special instructions box", which element(s) you want. (We don't need the whole part number...that's for your purchasing department.)
---
choosing a selection results in a full page refresh